Fairy Feast (11/20 – 12/3)
Fairy Feast (11/20 – 12/3)
November 20, 2012
Posted by: Sweet Pea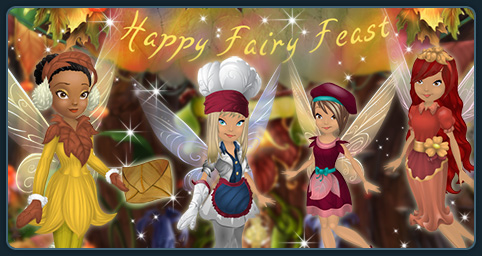 Dust off your aprons and put on your baking hats – it's time to get cooking for the Fairy Feast! Follow my recipe, and you're sure to have a pixie-licious time at the party!
Sweet Pea's Fairy Feast Recipe
Start by shopping for Fairy Feast fashions at Cassie's Costume Shop!
Then fly to Cottonpuff Field to earn your Cake Decorating badge and over to Acorn Summit to earn the Pumpkin Soup Maker badge.
Help Iridessa solve the mystery of an unsigned party invite on her new quest for Members and earn your 2012 Fairy Feast badge!
Unlock the recipe for Pumpkin Cake in Dulcie's Kitchen!
Don't forget to pick up a tasty gift in the Ballroom!
Check the Calendar for the Chefs' visits!!
Top it all off by throwing a Fairy Feast party in your Fairy Home for a chance to win autumn seeds and be featured on the Never News – click here for more details!
Sweet Pea